Although Huxtable, Christensen, and Hood are no longer performing, we hope our music and this website will continue to be used and enjoyed by those of you who have been loyal fans over the years ... and by anyone else who may happen by.
---
Remembering Liz Hood: After a friendship of 53 years and a singing partnership of 45 years, we sadly announce the passing of Liz Hood. We will miss Liz, her sense of humor, her rich alto/tenor and all those harmonies.
~Terri and Carol
Listen to Liz singing the lead in a song about a favorite place ...
Teresina Huxtable, Carol Christensen and Liz Hood sing popular music of five centuries, including traditional music of the British Isles and North America, Renaissance songs, sheet music standards, doo-wop, Western, and original tunes. Known for their tight vocal harmonies, often a cappella, plus their inventive arrangements and lively humor-filled performances, they have been favorites with audiences in the Northeast and Mid-Atlantic regions for years. They accompany themselves with piano, vintage reed organ, recorders, accordion, synthesizer and an assortment of whimsical percussion instruments.
Based in Saratoga Springs NY and Virginia, they have appeared at numerous venues including the Philadelphia Folk Festival, Mariposa Folk Festival, The Golden Link Folk Festival, Old Songs Festival, The Clearwater and Bear Mountain Festivals, The Towne Crier, Caffe Lena and Godfrey Daniels. After a long hiatus from regular performances, HCH released a new CD in 2016 and is returning to more frequent appearances.
Performance Video
Teresina Huxtable, Carol Christensen and Liz Hood perform an old favorite at The Minstrel in Morris Township, July 17, 2015. Video by Kevin Coughlin for MorristownGreen.com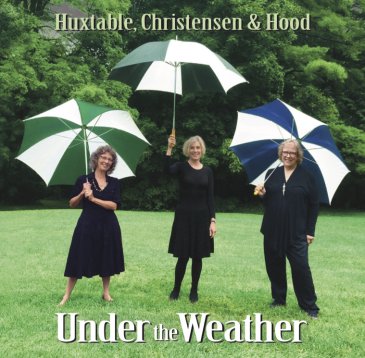 Left to right: Teresina Huxtable, Carol Christensen, Liz Hood

Under the Weather (2016)
Check out our new album, released in March of this year: Under the Weather.
An Informal Video
Teresina Huxtable, Carol Christensen and Liz Hood in an informal video, recorded in October, 2016.